One handed rod for salmon and sea trout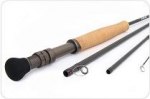 REACTION 1009 | 10' | #8 | 4-PCS
By request, we decided to include this rod in the line-up. If you are into the largest fish, the bulkiest flies and the full range of sinking lines, this rod is for you. Surprisingly smooth to cast, but holds a lot of hidden power when needed. The great balance and weight distribution makes it easy and comfortable to use during long sessions on the river. Recommended line weight/head weight: 17-19 grams.
Have had many extreme favorites such as before. Loomis GLX Distance and Guideline Lecia, but REACTION is brutally good. On the rod is the more often a Danielsson 79 or Vom Hofe 2, these are loaded with everything from floating line to the worst sinking line.
A favorite is the DDC CONNECT 8 / 9 single hand float, then it is easy to change bar tip. I weigh in lines of 19 grams, then this equipment is an absolute monster package of salmon and sea trout.

Two handed rod for summer fishing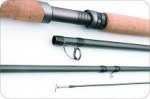 REACTION 137910 | 13'7" | #9/10 | 4-PCS
Energy and delicacy united! Truly one of the finest casting rods in the Reaction series and maybe the one that have surprised the most fishermen while trying it out during the past year. Light, well balanced and very easy to use, yet charged with unexpected power when you need to drive long casts consistently. A rod length and line weight that would suit as the first choice rod in many European and North American rivers. Match it with Shooting Heads in 12 meters length (39 feet), a 35 lbs Compline shooting line and you are set for some fun times on the river. Recommended Head Weights: 33-37 grams.
Have fished Guideline Lecie for many many years now, but last year when we were in Stryn I Stävmo and I was so damn stupid that I tried the trial version of REACTION. Then it was just to pick out new rods. A fantastic rod that goes up to the summer fishing for salmon in Norway or in the fall of Kharlovka, Litza and Rynda.
When I and Frödin go to the River Dee first week of May each year to fish for springers, it's just this rod being tackled. When I am in Scotland so I usually tackle this rod with a VOM HOFE 3.0 it gives an extra kick when you are in these classic river, otherwise you will find an Danielsson 8-11 or Danielsson 3W. The lines for this rod is always POWER TAPER 9 / 10 weighing 33-34 grams

Two hand rod for the heavy early fishing and big river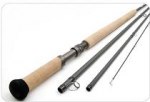 REACTION 1481011 | 14'8" | #10/11 | 4-PCS
Possibly the best "long distance" rod we ever built… The reports of all time long casts have kept coming in from all over Europe during this past year of testing and fine tuning it. If you fish large rivers for BIG fish and want a powerful rod that can take on any challenge you throw at it, then this might be your choice. Works excellent with both Super Fast Sinking Heads and long Floaters alike. To tap the full potential of this rod, you should use Shooting Heads 12,5 meters (40 feet)and longer. Recommended Head Weights: 38-42 grams. Heavy early fishing in Stryn, Kharlovka, Litza or large heavy Flom River, well then there is nothing better rod than that of the entire globe .... I am not alone in this decision, it just so extremely good. When you want to fish these early big fish with a little extra style and flair. I put on my favorite reel VOM HOFE 4.0, otherwise, there is one Danielsson HD 9-13 or Danielsson 3W on this rod.
As the weight on the line, so you can almost be charged this rod with what you want. But I is located at 39 grams on my POWER TAPER 10/11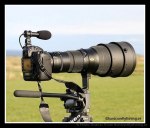 HUS
Nikon D3S
Nikon D800E
OBJEKTIV
AF Fisheye 16 mm f/2,8
AF 105/2,8G VR AF-S Micro
AF 14-24/2,8G ED AF-S
AF 24-70/2,8G ED AF-S
AF 70-200/2,8G ED AF-S VR
AF 300/2,8G ED AF-S VR
AF 600/4,0G ED AF-S VR
KONVERTER
AF-S TC-20E III 2X
BLIXT
SB-900
SB 910
SC-28 TTL Kabel

STATIV
Velbon Sherpa Pro CF-545 Kolfiber
Kulled Vellbon QHD-61Q Magnesium
Kulled GITZO GH 2781 QR
Joby Gorilla POD Focus
SPEGEL LÖST
Nikon V1
10 mm 2,8 Panncake
10-100 mm PD Zoom VR
Bajonett Adapter FT1
SB-N5 Blixt
Väskor
Lowe Pro Roller X200
Lowe Pro Dryzone Rover
GoPro
2 Stycken GoPro HD Hero 2