Fotoresa med Nikon till storstaden Kuala Lumpur och Borneos djungler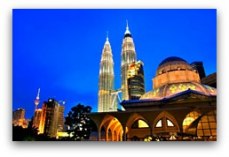 Känner du en längtan att få uppleva något utöver det vanliga och samtidigt utvecklas som fotograf? Då vill vi tipsa dig om att följa med Nikon på en oförglömlig resa till Malaysia 13-24 september 2012.
Resan inkluderar bland annat en vandring genom storstaden Kuala Lumpur, med de historiska byggnaderna och den 1 hektar stora orkidéträdgården som självklara stopp. Sedan följer bland annat en spännandeflodkryssning på Kinabatangan Riverside och en utflykt till natursköna Danum Valley som hyser mer än 275 fågelarter och en unik flora och fauna. Här kan man få syn på Sumatranoshörningar, trädleoparder och orangutanger.
För att resan skall bli så givande som möjligt för alla deltagande, krävs det att du har förkunskaper i fotografering och kan hantera en systemkamera och flertalet av dess funktioner mycket bra. Förutom den utrustning som du tar med dig själv, ges det även möjlighet att prova nya produkter från Nikon.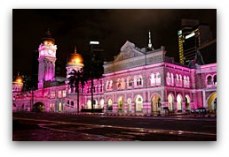 Resan är utformad som en fotografisk expedition där Nikons tekniska och kreativa handledare, Peter Eriksson ledsagar alla deltagare för att få ut det mesta möjliga av resan. Peter har mångårig erfarenhet som fotograf och utbildare.
Tidigare år har vi tillsammans med resebyrån Travel Logic arrangerat resor till Litauen, Borneo, Sydafrika och Nepal. En av dem som följt med till både Borneo och Sydafrika, är Mats Brynolf som även anmält sig till årets resa. "Som den stora natur- och djurälskare jag är så har tidigare resor med Travel Logic och Nikon känts helt rätt. Det känns extra skönt att all logistik kring resandet blir omhändertaget så att man kan fokusera på fotograferingen och upplevelserna. Borneoresan 2009 var en personlig favorit med stora möjligheter till spännande fotografering och kunniga guider, med höjdpunkter som tidiga morgonturer på Kinabatangan River men även sena kvällsturer med alla sina fantastiska ljud. Ett resmål som jag gärna gör om."
Resan är garanterad att bli av och än finns det några platser kvar. Det är dock först till kvarn som gäller då vår intention är att inte göra gruppen för stor, så att alla får utrymme. Vid händelse om resan blir fullbokad har NPS- och NPU-medlemmar förtur.
Här kan du läsa mer om resans upplägg och program.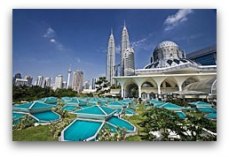 Resans innehåll och pris
Flyg från Stockholm eller Köpenhamn - Kuala Lumpur tur & retur med Qatar Airways.
Allt inrikesflyg inom Malaysia med Malaysia Airlines.
Skandinavisk och engelsktalande färdledning under hela resan.
Nikons representant, Peter Eriksson, medföljer under hela resan.
Denna resa är utformad som en fotografisk expedition.
Måltider enligt program ovan (F = Frukost, L = Lunch, M = Middag).
Alla transfers och hotell är inkluderade.
Möjlighet att prova nya produkter från Nikon under resans gång
Pris 39 800:- / person inklusive flygplatsavgifter/-skatter. Enkelrumstillägg 3750:- / person.
Viktigt att tänka på
Man bör vara vid god hälsa med normal kondition och beredd att vandra i cirka 2 timmar i lugn takt med många stopp för lunch och fika samt fotografering.
Svenska medborgare behöver inte visum till Malaysia, däremot måste passet vara giltigt minst 6 månader efter att man lämnat Malaysia.
Separat reseförsäkring, som täcker både resenär och utrustning, är obligatorisk att teckna. Kontakta oss om ni önskar prisförslag för en sådan reseförsäkring.
Med vänliga hälsningar
Nikon
Läs hela inlägget »
Today we celebrate dad's 70th birthday, the birthday present was from me to my father is a week of fishing on Monaltrie and Lower Invercuald and accommodation at Glen luie all included in April 2013. Mom there is room for you too.
As you can see in the pictures below, dad, we will go fishing on beats that you've been to before. But then you went fishing on the other side of the river, but I think we have both sides on this trip. In addition, we also fish for these great pools in a crowd, now in September for 3 days.
Congratulations on your birthday Dad, we love you. Hope you and mom have a great and memorable day.
Läs hela inlägget »
Follow us on Instagram.
addphotoexperience
Mixed pictures over the earth
Maybe today. Every day is a new day. It is better to be lucky. But I would rather be exact. Then when luck comes you are ready.
Ernst Hemingway/The Old Man And The Sea