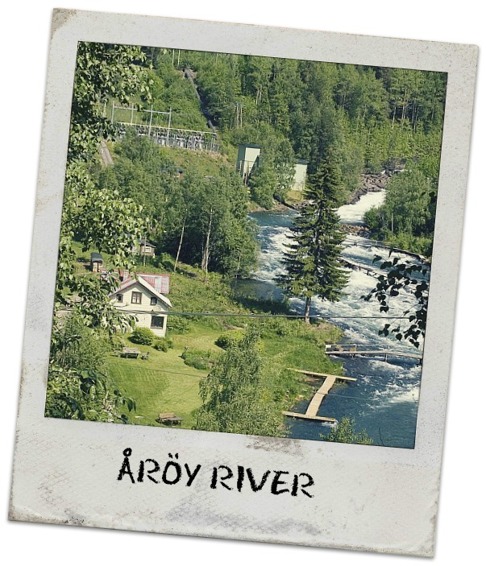 My diagnosis the day before departure to Åröy
1. Adrenalin är ett stresshormon som produceras i binjurarna, körtlar ovanpå njurarna. Det utsöndras i stora mängder vid hotfulla, ansträngande situationer eller när blodsockerhalten är för låg i kroppen. Hormonet som utsöndras direkt i blodet letar sig fram till alfa- och betareceptorer på celler runt om i kroppen. När de hakat sig på receptorerna sätts blixtsnabba kedjereaktioner igång i cellerna.
2. När adrenalin når hjärtcellerna börjar de pumpa snabbare och hårdare. Hjärtfrekvensen och blodtrycket skjuter i höjden för att det adrenalinstinna blodet snabbt ska nå ut till kroppens viktigaste organ.
Luftrören utvidgas för att snabbt syresätta blodet och levern bryter snabbt ner stärkelse till energirikt socker. Även musklerna bryter ner sitt sockerlager – allt för att kroppen snabbt ska får energi nog för att antingen springa iväg eller slåss.

Ögats pupiller vidgar sig under adrenalinets påverkan. Mer ljus släpps in och mörkerseendet förbättras. Tyvärr uppstår ofta tunnelseende då hjärnan bara koncentrerar sig på det den uppfattar som fara.

Svettproduktionen ökar för att svalka ner kroppen under den tilltänkta fysiska aktiviteten men även för att göra kroppen hal nog för att fly ur ett grepp.3. Under en adrenalinkick stängs vissa av kroppens funktioner helt eller delvis av för att kroppen ska kunna koncentrera sig på det väsentliga som att öka blodtillförseln till de stora ­muskelgrupperna. Detta innebär bland annat att blodkärlen på kroppens yta drar ihop sig och blodflödet dit minskar. Detta är anledningen till att de som är rädda oftast är likbleka.

Blodflödet minskar även till den del av hjärnan som bearbetar kunskap medan reptilhjärnan får förhöjd aktivitet. Händelserna upplevs i ultrarapid då hjärnan bearbetar situationen betydligt snabbare än vanligt.

Den ökade muskelanspänningen leder ofta till darrningar, stelhet, ryckiga rörelser och till och med talsvårigheter.
4. 1895 identifierades och isolerades adrenalin för första gången av den polska fysiologen Napoleon Cybulski. Ovetandes om den polska upptäckten "återupptäcktes" stresshormonet 1897 av John Jacob Abel och återigen 1901 av Jokichi Tokamine som får äran av att döpa det till just adrenalin, från latinets ad (på/till) + renes (njurarna).
5. Adrenalin har en mycket kort livslängd. Redan efter två minuter bryts hormonet ner av kroppsegna enzymer. Efter­ en adrenalinkick kan man känna sig mycket trött och medtagen. Det är effekterna av att kroppen bromsas ner.
6. One mill epi! Det har man hört utropas till leda i flera sjukhusserier på tv. Det akutläkarna ropar efter är en injektion av adrenalin. I USA och även enligt det internationella generiska namn som rekommenderas av Världshälso­organisationen är epinephrine den korrekta beteckningen för adrenalin. Namnet adrenalin är registrerat som ett varumärke i USA och kan inte användas fritt på den amerikanska marknaden. Istället används den grekiska motsvarigheten till adrenalin: epi (på/till)+ nephros (njure).
7. De som lider av posttraumatisk stress har förhöjda halter av adrenalin och noradrenalin i kroppen. Noradrenalin banar väg för utsöndringen av adrenalin och de förhöjda halterna gör att det krävs ytterst lite stimulans för att kroppens fäkta-eller-fly-mekanism ska utlösas.
8. Betablockerare används idag bland annat för att minska nervositet och blodtryck. Blockerarna hindrar adrenalin från att nå och reagera med betareceptorerna på kroppscellerna.
9. Adrenalin kan ställa till en hel del förtret under en förlossning. När kvinnan är spänd och orolig utsöndras adrenalin i stora mängder och detta har en hämmande effekt på må-bra-hormonet oxytocin. För låga nivåer av oxytocin kan leda till att värkarbetet avtar med en utdragen förlossning som följd. Profylaxandning har en lugnande effekt och ser till att hålla adrenalinhalterna i schack.
10. Adrenalin används mycket effektivt som medicin vid hjärtstillestånd, allvarliga astmaattacker och starka allergiska reaktioner. Hormonet kan få det avstannade hjärtat att börja slå igen, luftrören att utvidgas och lindrar hudreaktioner och svullnad. Adrenalin har många positiva effekter­ på kroppen men för höga mängder under för lång tid kan leda till högt blodtryck, hjärtfel och andra stressrelaterade sjukdomar.