Åröy River
2016-08-29
« Tillbaka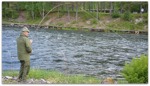 Nu är det bara ett par dagar kvar innan man står där med skällvande och darriga ben ;-) det kommer inte bli LAJV eller regelbundna uppdateringar, men det kommer garanterat att läggas upp bilder regelbundet både här och på Instagram.
Så om intresse finns för att följa mig Ågren, Trond samt Bosse och hemlig gäst så kolla in här med jämna mellan rum eller den 5-6 september så finns det en hel göttigt att titta på..
This is probably the most mythical river for atlantic salmon on the planet, and the fables and stories are endless. This is where "count" Denisoff held the lease for decades, where some of the biggest atlantic salmons on the planet have been landed and where the "bridges of despair" can be found. It was also leased by Hardy for a few years, Coco Chanel dated famous men along the bank. And to get any information about the river has been nearly impossible for many, many decades.
Here you will find a very good movie from Åröy River
Have you seen the dvd "The Lost World of Mr.Hardy" ?
On it there is some old film of catching Salmon on the Årøy river.