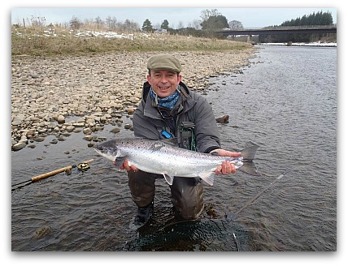 Recent Catches
Salmon fishing improved last week with the Spring tides encouraging new fish to come forward into the river. FishDee beats have reported 80 salmon to 25lbs and 3 sea trout to 4lbs. Lower Crathes continued to lead the way with 14, Park reported 9 and Altries and Upper Blackhall beats reporting 6 apiece. The biggest fish reported was 25 lbs from Middle Blackhall, more of this later. There were reports this morning of a good run of cuckoo wrasse into Aberdeen harbour which sadly were not co-operating with city anglers enjoying their annual Easter Fishathon; better luck next year.
I received some images from Robert Harper, Head Ghillie for Lower Crathes who commented in his e-mail 'Ken, Mr Mark Bird and Mr Karl Simmons, caught five fish each for three days fishing last week.' The beat has been fishing well for the last few weeks. Lawrence Ross sent me an e-mail with news from Tilquhillie advising 'Young local lad Lewis Buchan (not long turned 17) caught his first salmon on Friday - 10lb fish on Tilquhillie. Lewis has had sea trout but this was his first salmon. As you know, Friday was a bitterly cold day but Lewis stuck at it and got the fish in the middle of his 'last three casts for the day'. Goes to show that perseverance pays.' Congratulations Lewis on your success and I hope this is the first of many.
I visited Middle Blackhall last Thursday and enjoyed a good chat with beat Ghillie Davie Gibbon who is always entertaining company. Davie has put himself through a level 2 coaching course and proudly announced his is the oldest level 2 angling coach in Scotland. He was looking after the Timothy Bone party who were staying at Glenbogle Lodge. David phoned me this morning to pass on the news about a big fish seen entering the Rockheads Pool on the beat. Mrs Bone was fishing the pool. She retired for lunch however David encouraged Timothy to go back to the pool to see if he could tempt the big fish. Timothy did manage to hook the big salmon that had been observed and had a real battle with the fish before managing to land it with the help of David Gibbon. Timothy has just this moment written to me as I draft this report advising 'Sorry I missed you on Thursday, I came back from lunch, before the rest of the party, had a quick chat with David, to discuss where everyone would be fishing. I asked him to quickly check my fly was ok (a black bodied Willie Gunn), as I had a pull up at Cairnton in the morning, that had amounted to nothing more than a sharp tug. My mother had seen a large fish come into the pool before lunch. I began fishing Rockheads, and at about 3.15pm the line went very solid and started moving about enough for me to realise a fish was on the end. A while later following some support from Matthias on the Cairnton side, David the Ghillie and my mother turned up in time to help land a splendid Dee Springer of 25lbs, 40.5 inches long. After recovering the fish swam away strongly, before any photos could be taken.' This is the biggest reported salmon caught this season.
The River Dee Trust has launched a spring raffle where tickets are on sale in fishing huts, Orvis in Banchory, the Tor Na Coille Hotel and Potarch Hotel, with some very nice prizes to be won. Raffle tickets can also be purchased through the River Office, Mill of Dinnet, Aboyne, tel 013398 80411.
The Dee District Salmon Fishery Board would like to advise that details about the bursary scheme to encourage young people to become ghillies are now on their website www.riverdee.org.uk Please write with any news of catches or anecdotes to ken@riverdee.org so I can share this news in the weekly report and FishDee blog. Copyright FishDee
Beat catches reported
SALMON & GRILSE: Ardoe and Murtle 1, Altries and Lower Drum 6, Middle Drum 1, Tilbouries 3, Upper Drum and Lower Durris 5, Park 9, Lower Crathes and W Durris 14, Knappach 1, Crathes 5, Invery 4, Tilquhillie 1, Lower Blackhall and Kinneskie 1, Little Blackhall and Inchmarlo 3, Middle Blackhall 2, Upper Blackhall 6, Cairnton 1, Commonty 4, Sluie 1, Ballogie 2, Kincardine 2, Carlogie 1, Dess 4, Craigendinnie 1, Waterside and Ferrar 2.
Total: 80 Largest: Middle Blackhall 25lbs
SEA TROUT: Ardoe and Murtle 2, Kincardine 1.
Total: 3 Largest: Ardoe and Murtle 4lbs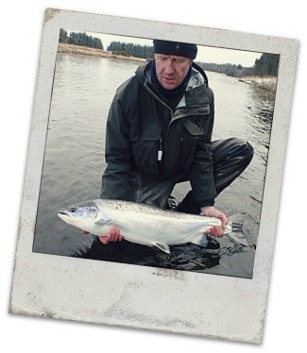 Prospects
The spring tides have brought new fish into the river and are now dropping back from 4.0 metres to 3.5 metres midweek before rising at the weekend to 3.9 metres. River levels are low for the time of year due to the long spell of relatively dry and cold weather conditions. The Sepa gauges are showing 3 inches at Mar Lodge and 1ft 1 inch at Park. Weather forecasters are advising the high pressure system over northern Scotland will continue to hold firm and prevent warm, moist Atlantic weather systems crossing the country. Air temperature maxima will perhaps reach 6 degrees Celsius this week with continuing night time frosts. Winds will be light, and from a north easterly direction through the week with little precipitation of consequence. The river would benefit from a rise in river levels and water temperature. It appears that the jet stream which influences our weather is going to remain straddled across southern France and northern Spain for the next few weeks. When it decides to move north then we should see weather systems from the Atlantic cross the country bringing warmer and wetter weather.
As the river is low and very cold salmon are not in any hurry to run the river, with the bulk of recent sport from Banchory down towards Aberdeen. I expect this pattern to continue with new fish creeping slowly upstream. As the river level is low anglers will be using floating lines with perhaps intermediate poly leaders and tube flies or larger dressed doubles. As always heed the wise counsel of your beat Ghillie who will advise where the taking lies are on the beat given the water conditions you encounter there. River Dee Ghillies are very knowledgeable and experienced and you can rely on their counsel. As always remember you work as a team together with the Ghillie often as not enduring very cold weather doing his utmost best to encourage you to persevere and cover the water effectively. Fly choice will include Black and Yellow patterns such as Posh Tosh and Maggie's Shrimp, Gold Bodied Willie Gunn, Ally's Shrimp, Dee Monkey and Sunray Shadow. With the clocks moving forward yesterday anglers will perhaps want to fish on in the evening.
As always there is fishing availability on the FishDee website during April. The weather looks slightly warmer for angling this week and if dedicated salmon anglers can manage a visit to the river then please do so. A 3 day break at this time of year can yield some rewards with some of the local hotels doing some fantastic Fisherman's rates for 3 days stays or more for groups of 3 or more anglers. There is great value to be found at local hotels and remember to ask what their fisherman's rates are when you make your booking. All anglers are being asked to have their waders and any landing nets sprayed with a mild disinfectant prior to commencing fishing. It's a quick procedure that will help the river and prevent ingress of unwanted pathogens and non native species entering the watercourse. Please write with any news of catches or anecdotes to ken@riverdee.org so I can share this news in the weekly report and FishDee blog. Tight Lines! Copyright FishDee