Dear All Please find attached weekly report with latest news about salmon catches and feedback received. Images attached include: Geoff Fisher with an opening day Spring salmon at Lower Crathes. Cohn O'Dea fishing the fly diligently Greig Thompson fighting a fish as dusk falls.
Images and video footage from opening day are courtesy Salmo Fishings Blog http://salmo-blog.com/ They are a FishDee advertiser and great supporters of the River Dee.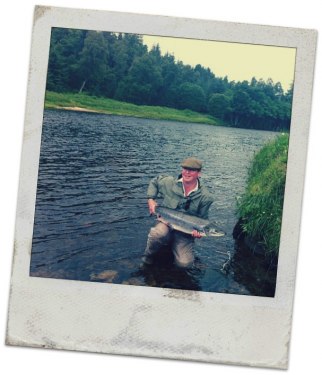 Recent Catches
The River Dee salmon fishing season commenced on Friday 1st February and saw spring salmon located between Lower Crathes and Aboyne Water. Conditions for angling were ideal with the river running at a nice height and relatively benign weather conditions for the time of year. The opening two days saw 29 salmon reported to FishDee with 3 other fish I know of landed from FishDee beats. Invery again had the best of the sport on the opening couple of days with 5 fish reported; Cairnton had 4, with Lower Blackhall and Aboyne Water reporting 3 apiece.
Iain Wood had the fishing for the opening two days at Invery and again he was delighted to have his party enjoy good sport. Two of the successful anglers have written to me this weekend, Charles Jeffrey and Gareth Headland. Charles wrote advising 'Home in the Borders again after our successful sortie again on Invery. Who says that lightening doesn't strike twice in the same place? We were all on a high at lunchtime on Friday having had three fish and surprisingly all the same length and weight. Ian Ross and I didn't have a problem agreeing to Gareth being presented with the lovely box of flies. He's never had a Springer on opening day before. Can I respectfully suggest when covering this in your report, that you mention that Ian Ross and I had fish of the same weight and readily agreed that Gareth should have the prize as his fish was caught before ours? He was good company and the hospitality we had in Banchory was of the usual high standard. The Derbar looks after us well. No wonder, as each time we are up (about seven times a year) we go there each night. Jim Turnbull is a perfect gentleman and looked after us all so well and Karl appeared looking more like a gentleman than we've seen before with his tweed suit! It was good to see you again, Ken and hopefully we'll catch up with you again when we're up on Deeside. The 4th March is the next challenge with Brian at Crathes and again the following week at the same venue.' Gareth wrote advising 'Good to see you Ken, thanks for mediating between the 3 of us who all had very similar size fish; seemed fair actually the first one taken gets the prize, even though I may be biased if it worked against me, would say the same. I think Ian Ross and Charles Jeffrey should be mentioned in despatches! Hope to bump into you end of March I hope when I have Carlogie all last week of month. I had another fresh one Saturday too, 11lb by the way'. It's pleasing to hear that Gareth finally got the monkey of his back with an opening day fish.
Upper Blackhall beat have agreed to join FishDee this season and I was pleased to hear that Simon Mitchell had two spring fish on opening day when we met on Friday afternoon. This lovely beat is opposite Cairnton and Woodend and fishes 3 rods through its one and three quarter mile length. I'm delighted to announce that there are 3 rods available each day for the next fortnight at a very attractive £50 per day. Anglers looking to fish Upper Blackhall during the next fortnight should contact Ghillie Raymond Sinclair on 01330 822183 to book fishing.
I would like to make anglers aware that there is one important change to the River Dee conservation code in 2013 sees the introduction of tighter Biosecurity protocols which ask all anglers fishing the river to have their wading boots and landing nets sprayed with a mild disinfectant on arrival at their beat. Disinfection equipment has been supplied to all fishing beats and this process, which was trialled last year on beats, will cause a very minimal disruption to anglers. Please write with any news of catches or anecdotes to ken@riverdee.org so I can share this news in the weekly report and FishDee blog. Copyright FishDee
SALMON & GRILSE: Park 1, Lower Crathes and W Durris 1, Invery 5, Lower Blackhall and Kinneskie 3, Little Blackhall and Inchmarlo 1, Middle Blackhall 1, Cairnton 4, Lower Woodend 1, Sluie 2, Ballogie 2, Borrowston 1, Kincardine 2, Carlogie 1, Dess 1, Aboyne Water 3, Total 29
SEA TROUT: none reported
Prospects
The river is running at a decent fishing height just four days prior to the start of the 2013 River Dee salmon fishing season is underway now and there is a small rise in river levels over the weekend due to snow melt. There have been some big lifts in water heights through the close season and the winter has been relatively mild and open up until the last few weeks. The upshot of this situation should mean a distribution of early springers and winter fish running the river, where they may be well spread out in lower and middle river beats. The opening couple of days saw catches up to Aboyne Water. The weather forecast is predicting air temperature maxima around 4 degrees Celsius this week with strong cold winds and wintry showers and overnight frosts. The maritime influence sees tides building this week from 3.6 metres to 4.5 metres.
The River Dee can produce some early fish to 20lbs plus so anglers will need to ensure their tackle is sound. I am delighted to see there is a very good amount of fishing available in February to book online at the FishDee website and anglers would be well advised to book some early fishing and take advantage of good values on offer from wide range of FishDee beats that have rods available. One important change to the River Dee conservation code in 2013 sees the introduction of tighter Biosecurity protocols which ask all anglers fishing the river to have their wading boots and landing nets sprayed with a mild disinfectant on arrival at their beat. Disinfection equipment has been supplied to all fishing beats and this process, which was trialled last year on beats, will cause a very minimal disruption to anglers.
Anglers will be fishing with Intermediate or sinking lines and short leaders. On the business end, tube flies are very popular and patterns such as Black/Yellow, Gold Bodied Willie Gunn, Dee Monkey, and Snaelda should provide opportunities of sport from Springers where they are located. There will be Kelts (last season's salmon which have spawned) and it is important that anglers return these fish carefully to the river as some will make it back to sea and return again to spawn. Anglers looking to source fishing tackle that needs replaced or topped up can visit Somers of Aberdeen, Orvis in Banchory, George Strachan in Aboyne and the Kincardine O'Neil Post Office. Copyright FishDee