River Dee Report week 21 from Ken Reid
Recent Catches
The last week on Deeside saw temperatures soar from Tuesday and hover around 26 degrees Celsius for the rest of the week. With clear blue skies and very little wind to talk off anglers were having to work hard to catch fish with 9-5 hours favoured by some anglers less likely to be productive. Anglers who fished on in the evening and made early starts in the mornings though had some success as the FishDee catches indicated. There have been 112 salmon and 39 sea trout reported for the week which is very reasonable given the prevailing difficult fishing conditions, water levels were good during the week which was a blessing. Dess produced 15 salmon, Carlogie 14 and Crathie 12 however the sea trout catch improved significantly this week with Invery reporting 9 and Kincardine 7. I am told Neil Stephenson had a productive evening session at Invery with 4 sea trout and a salmon after 10.30 pm.
Mats Jönsson and Eion Smith after just having released a springer
Rossicks Pool at Dess
I have received some correspondence from anglers and was pleased to read of the success of the Rishworth Party at Lower Blackhall. Keith Rishworth wrote to me advising 'I have emailed you in the past with our previous experiences at Lower Blackhall and I give below a brief account of our successes on the Dee at Lower Blackhall last week i.e. week commencing 7th May 2012. Along with two friends Andrew Thompson from near Skipton and David Oversby from Ingleton in North Yorkshire, we fished hard all week on good water and were rewarded with a fish each. David caught first, a fresh run 10lb Salmon and Andrew the following day with a sea liced Salmon weighing 9lbs. Things were beginning to look a little bleak for yours truly as the week drew to a close, however through perseverance and dogged determination I was lucky enough to be rewarded with a 20lb Springer on the last day. It was a wide, deep fish and measured 37" from the inside of its tail to the tip of its nose, a bar of silver. What a great week it turned out to be and we are already looking forward to next year. Many thanks to Colin Simpson and Lawrence Ross for making us feel so welcome at Lower Blackhall and in particular to Colin for his help and guidance on the river. Colin's sense of humour combined with his skills as an expert Ghillie, fisherman and fly tyer make our week so much more enjoyable.' Well done Keith on persevering to get your reward-a 20lb Springer!
Fred Higham sent an e-mail this morning commenting 'I fished Woodend for two days last week in bright sunlight and searing hot temperatures. The river had risen from recent snow melt when we arrived from Lancashire early Friday morning after driving through the night. I was with my fishing friend David Jackson (who I think you may know) and I write the river reports for the Ribble and Hodder for Trout & Salmon, but I'm not too familiar with the Dee. Little wonder it is called the Queen of rivers. The countryside was at its best and the river in good conditions although the bright sun and hot temperatures were not conducive for fishing. Despite this David landed two nice fresh fish of about 10lbs and 6lbs, both these fish took a size 11 Cascade variant fished off a sinking leader. David asked me to forward you one of the photos as he thinks you may wish to add it to your Dee report. 'As Fred observed the river at Woodend is very pretty with the surrounding countryside looking tremendous just now with all the flowers and new leaves on the trees. Having lunch outdoors beside the river with all the lovely weather is a real bonus for visiting anglers.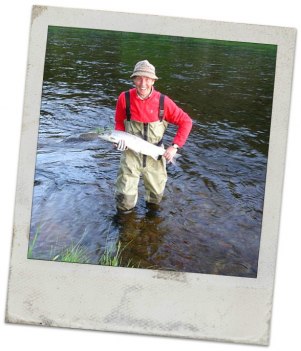 David Jackson with a salmon
I was delighted to receive an invitation from Jeremy and Jenny Clayton to fish at Dess on Friday. As always they are very kind people and wonderful company. I was delighted to hear that Jeremy had landed a 15 lb salmon just before I arrived at 9 am. I was fishing in a pool above him and saw him get into a fish so I moved smartly down the bank with a landing net and netted his second of the day-a fine 14 lb salmon. Shortly afterwards Jeremy returned the favour when I was fortunate to hook a nice salmon in the Mill Pool. We retired to the Upper Hut for lunch and enjoyed a super feast provided by Jeremy and Jenny and discussed our mornings sport. All of the anglers had hooked fish in the morning and we all enjoyed a nice leisurely lunch in the super hut. I will post some pictures from the day on the new FishDee blog http://fishdee.wordpress.com/
As always please let me know how you get on by dropping me an e-mail to ken@riverdee.org with any anecdotes and pictures about your experiences on the river. Ken Reid © FishDee Ltd.
Beat catches reported(week ending 19th May)
SALMON & GRILSE: Upper Drum and Lower Durris 2, Park 2, Lower Crathes and W Durris 3, Crathes 3, Invery 1, Cairnton 3, Woodend 3, Lower Woodend 1, Sluie 1, Ballogie 7, Borrowston 2, Kincardine 4, Carlogie 14, Dess 15, Birse 2, Aboyne Water 7, Aboyne Castle 2, Craigendinnie 2, Waterside and Ferrar 4, Dinnet 1, Deecastle 6, Headinch and Cambus O'May 3, Monaltrie and Lower Invercauld 9, Abergeldie 1, Balmoral 2, Crathie 12.
Total: 112 Largest: Borrowston 23lbs
SEA TROUT: Upper Drum and Lower Durris 2, Park 5, Lower Crathes and W Durris 1, Crathes 1, Invery 9, Lower Blackhall 2, Little Blackhall and Inchmarlo 3, Woodend 1, Ballogie 2, Kincardine 7, Carlogie 1, Birse 1, Waterside and Ferrar 1, Monaltrie and Lower Invercauld 1, Crathie 2.
Total: 39 Largest: Kincardine 5lbs
Prospects
The fabulous weather we have been experiencing is forecast to break from tonight with cooler weather moving down from the north. This will see air temperatures drop back to a more seasonable 15 degrees Celsius with decent cloud cover and light northerly winds. This should help anglers and sport may be reasonable with salmon and sea trout reasonably well distributed throughout the catchment. The maritime influence sees tides building from 3.6 metres to 4.2 metres at the weekend which hopefully will bring some new fish forward. Night fishing may continue to be productive providing there isn't a sharp drop in air temperature. River levels are good for the time of year with the Sepa gauges reading 10 inches at Mar Lodge and 1 ft 3inches at Park.
A lovely afternoon on the riverbank with an angler fishing the Trees Pool at Dess
As daylight hours are really stretching now as we approach midsummer anglers have the opportunity to fish mornings, afternoons, and evenings on through the night. It is important to seek the guidance from your beat Ghillie as to when the best sport may be expected. Your Ghillie can advise on where the fish are located on the beat you are fishing and advise on the tactics you should employ when fishing your beat. Your Ghillie can make recommendations about what flies to use and please show them your fly box and discuss the best ones to try. If you don't have a Ghillie to call on for advice then perhaps you will fish with a full floating line and a size 8-12 fly. The patterns to try may include silver stoats tail, Cascade, Ally's shrimp, Crathie fly and Frances. You may find fish located in the faster streams now where fish like to lie in the well oxygenated flows. At nightfall fish can be on the move and pool tails can fish well as running fish come into a pool. If you don't have the range of flies you need then you can visit the Orvis shop in Banchory, Kincardine O'Neil post office and Strachan's of Aboyne who all have a decent range of River Dee flies available.
Please ensure all visiting anglers sign the Gyrodactylus salaris declaration forms. These are vitally important to the river, ensuring all visitors are vigilant in ensuring we take necessary precautions and don't see this devastating parasite wiping out our stocks of salmon. If you are not offered one to sign then I would urge you to please ask for one to be provided to you prior to commencing fishing. Ken Reid © FishDee Ltd.