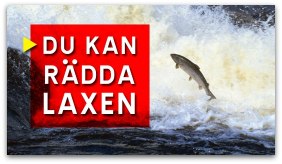 Now settled Baltic salmon's future.
You can make a difference.
During the year, the EU will decide on a new management plan for Baltic salmon. The contents of laxplanen is essential for the salmon future. Participate in the petition and send a letter to Marek Gróbarczyk from Poland who is responsible for Fisheries Committee opinion on laxplanen. In this letter, we demand that the EU will stop all commercial maritime fishing for salmon to wild salmon can return to their home rivers. Click on the image to sign or here
To: MEP, Marek Gróbarczyk
CC:
MEP, Carl Schlyter
MEP, Werner Kuhn
MEP, Ole Christensen
MEP, Carl Haglund
MEP, Isabella Lövin
Subject: The Multiannual plan for the Baltic salmon stock and fisheries – Phase out the offshore fishery
Dear MEP, Marek Gróbarczyk, Rapporteur of OPINION of the Committee on Fisheries on the Multiannual plan for the Baltic salmon stock and fisheries
I am writing to you concerning the European Union's plan for a new multiannual plan for the Baltic Salmon stock and fisheries.
I am sure you are aware of but I would like to reiterate the following. Baltic salmon consists of several different populations that originate from over 33 different river systems. The majority of these river populations are very weak or threatened e.g. only 58 spawning salmon were counted at the Swedish Åby river system and 13 fish in the Rickle river during the 2011 season. The present management system allows for a fishery on mixed salmon stocks at sea and thereby threatens survival of our weakest Baltic salmon populations. The creation of a new Baltic salmon management plan gives a unique opportunity to form a sustainable, economically sound and just system that allows the countries of the Baltic region to fully unleash the potential for development that this unique resource salmon gives.
I believe that salmon should be allowed to return to their natal river systems for reproduction and small scale utilization based upon each river stocks specific capacity. This would allow for conservation of weak stocks and creation of a modern sustainable utilization of the salmon resource.
Phase out the commercial open sea fishery on mixed stocks of Baltic Sea salmon.
Yours faithfully,
(Your name)
Please help us all anglers and nature lovers, by writing this.
Text and photo taken from.
Sveriges Sportfiske och Fiskevårdförbund