River Dee Report week 18 from Ken Reid
David Murray and Mads K Pedersen and in the background Reid Hagelin
Recent Catches
The River Dee in May is a wonderful place to be salmon fishing with many anglers coming back year on year to fish for spring salmon. This last week has been very special for some visitors as there have been some really big salmon landed. What we lacked in quantity has more than been compensated for in the quality of salmon being caught. FishDee beats have reported 142 salmon to 30lbs as I write with 10 sea trout also landed. Ballogie and Carlogie reported 14 salmon apiece, with Dess reporting 8 and Invery 7. I visited John Richmond, who was fishing at Invery where he landed a nice salmon he estimated at 30lbs which was fresh run. He told me he had a real battle to land this fish which is his biggest to date. Regular Dee visiting angler Ole Wisler, Editor of Sportsfiskeren Magazine, landed a 42 inch salmon at Lower Invercauld which was estimated at 28lbs. Ian Murray's beats have had some really nice big salmon this season which have delighted visitors to his beats. I met Peter Pleydell-Bouverie on Friday at Lower Crathes who was really delighted to report his first salmon of the season. This salmon was a fabulous 25lb specimen that was fresh run and very strong. Host for the week Arni Baldursson was delighted with Peter's success, and he was equally delighted to catch a very nice 22lb salmon to his own rod. Arni, who's a very talented angler, demonstrated his talents as an up and coming Gordon Ramsay by showcasing his culinary skills whilst using the beat barbecue during heavy rain and hail showers, and provided all the assembled guests with a memorable lunch. I believe Arni landed the 100th fish of the season at Lower Crathes. Mr Pinney had a super 25 lb salmon at Malt Steep, Middle Blackhall which measured 40 inches. Ghillie David Gibbon said the fish was a cracker. Jeremy Clayton, the proprietor of Dess had a nice 20lb salmon on Friday.
John Smith having a battle on his hands with a nice salmon, with Crathes Ghillie Brian Sim ready to net the fish.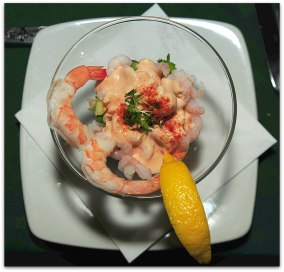 I received an informative e-mail from Greig Thomson, Salmo Fishing's proprietor who was visiting Deeside. He commented 'Just quick email to let you know that we had Richard Bath, editor of Scottish Field magazine out on Friday on the upper river at Mar Lodge Estate. We spent the day showing him the upper river, both below and above Linn of Dee and advised him on the fantastic, forward thinking work that is carried out by the River Dee board. We enjoyed fantastic hospitality from Mar Lodge estate as always, and have to credit them for the operation they run in such a fantastic location. For anyone who has not visited this part of the river as they feel it maybe too far up then I urge them to think again, as it is without a doubt one of the most scenic places in Scotland to fish. After our day we showed Richard Mar Lodge itself, along with some of the fine hotels that are available on the upper river for visiting anglers, such as the Inver at Crathie. We stayed the night at the Glen Lui Hotel in Ballater where Susan and her team provided a wonderful meal and hospitality, a truly wonderful establishment all round and we thoroughly recommend it. On Saturday morning to finish my trip I headed to see an old friend Neil Cook at Glenmuick, before he retired Neil was the head ranger on Balmoral Estates and at the grand old age of 75 was, and still is, an ambassador for wildlife conservation on Balmoral. Neil was telling me stories of when he remembers the upper Dee almost void of salmon not so long ago and how it was a delight to see almost 200 fish spawning at the Long Pool on Birkhall just last November. Being a conservationist, it was great to hear from one of the old school echoing the fact that catch and release is indeed a great thing.'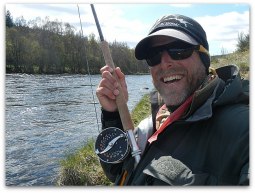 I was delighted to hear from Aboyne Water Ghillie Jim Cowper, who sent me a humorous e-mail commenting about his week looking after the visiting Woods party. He advised 'Hi Ken, normal week at Aboyne Water with Mr. D. Woods' party. Two anglers fell in, two mobile phones wet and a third phone fell into 7ft off water in the Irrigation pool. A visit to Aboyne hospital to remove a fly and 5 salmon landed. Saw many fish running on Thurs and Friday.' Aboyne angler David Ramsay wrote to me on Friday with images from his recent week at Crathes Castle advising 'Here are a few photos from Tuesday at Crathes Castle, where John Smith landed this superb 20lbs salmon, he also caught a 2lbs sea trout, on Thursday he followed this up with a beautiful sea liced salmon.So far John is the only one to make contact, I have fished hard but so far blanked, hopefully today is the day.'

I have just received an e-mail from Ole Wisler who recounts graphically his epic struggle with his 28lb salmon at Lower Invercauld. 'I had a splendid fish at the Brock Roy pool on Lower Invercauld. It was a wide, heavy fish measuring 104 cm, taken on a small fly 'grey and silver' with a small size 12 hook and a thin leader as well. The banks are pretty steep at that pool, so I was standing 10 feet above fighting this beautiful big fish watching almost every move it made. I couldn't get hold of the ghillie and it's impossible to beach a fish there. Well, after 20 minutes the fish went out of the pool and into the white water below. Me running after, under branches and over big rocks, after some 5 or 10 minutes I succeeded in grabbing the big fish's tail standing in one meter of water. It had a massive, powerful tail and it whipped the water white. Don't know how but I managed to hold the fish and was able to unhook it. I took a quick snapshot of the fish releasing it. Anyway, the big fish was, and is in good health, still swimming. Don't know 'bout others, but the Dee has certainly become a 'big fish river' to me as I've caught quite a few fish over 20 lbs during the years.' Its magic moments like these that become etched in an angler's memory forever. As always please let me know how you get on by dropping me an e-mail to ken@riverdee.org with any anecdotes and pictures about your experiences on the river. Ken Reid © FishDee Ltd.
Angler John Smith with his 20lb salmon at Crathes.
Beat catches reported
(week ending 5th May)
SALMON & GRILSE: Tilbouries 3, Park 3, Lower Crathes and W Durris 6, Crathes 1, Invery 7, Lower Blackhall 2, Little Blackhall and Inchmarlo 3, Middle Blackhall 5, Cairnton 5, Commonty 2, Sluie 4, Ballogie 14, Borrowston 4, Kincardine 7, Carlogie 14, Dess 8, Birse 7, Aboyne Water 5, Aboyne Castle 4, Craigendinnie 8, Waterside and Ferrar 6, Dinnet 2, Deecastle 4, Headinch and Cambus O'May 5, Monaltrie and Lower Invercauld 5, Birkhall 2, Balmoral 2, Crathie 4.
Total: 142 Largest: Invery 30lbs
SEA TROUT: Middle Drum 4, Tilbouries 1, Park 2, Lower Crathes and W Durris 1, Invery 1, Little Blackhall and Inchmarlo 1.
Total: 10 Largest: Middle Drum & Tilbouries & Park & Invery 3lbs
Prospects
Anglers visiting the river will find it at a nice fishing height with the Sepa gauges running between 8 inches at Mar Lodge and 1 ft 6 inches at Park, but that may change. The Met Office advises that we shall see some heavy rainfall this week which may cause river levels to rise. Rain is forecast later today and into Tuesday with heavy rain showers at times occurring during the week, which may be prolonged at times. Hill snow and overnight frosts are also likely during the week and it will feel cold. Average temperatures will be around 9 degrees Celsius. The maritime influence indicates tides will drop back from 4.5 metres today to 3.6 metres by the weekend. There should be new fish coming forward on the current high tides; hopefully in good numbers to run the river.

Your Ghillie will be able to provide you with good advice when visiting your chosen beat. It is always wise to heed their words of wisdom as they are on the beat week in week out during the fishing season and know their beat intimately and where willing salmon may be encountered at any given water height. If you do not have the services of a Ghillie to call on you may want to fish with a floating line and sink tip combination. Fly choice may include the Park Shrimp, Ally's shrimp, Black or Red Frances, Monkey or Sunray shadow. Finding the taking depth will be a challenge as the river temperature will be around 6 degrees Celsius. Perseverance will be required in fishing your pools during your stay.
Party time with good friends at Glen Lui Hotel Mark Paterson and Frede Hognestad
If you find you have the wrong flies with you for your fishing trip or run out, then pay a visit to some of our super retailers; George Strachan's store in Aboyne have increased their selection of fishing equipment and River Dee flies tied by the Ballogie Estates Head Ghillie Sean Stanton, at very attractive prices too. They now stock a good range of fishing accessories, including waders, fishing rods and reels, fly lines and leader material. They also provide great sandwiches for visiting angler's luncheon, and of course the highly popular Dalmore Dee Dram which raises funds for the River Dee Trust. The Orvis store in Banchory also has a vast selection of flies to choose from and equipment to hire. The Countrywear shop in Ballater is a favourite destination for visiting anglers, where Norman Clements is always delighted to meet visiting anglers. They have a good selection of fishing equipment available and provide good service and value. I would like to add Kincardine O'Neil Post Office supplies nice sandwiches and a great selection of River Dee flies too. Please ensure all visiting anglers sign the Gyrodactylus salaris declaration forms. These are vitally important to the river, ensuring all visitors are vigilant in ensuring we take necessary precautions and don't see this devastating parasite wiping out our stocks of salmon. If you are not offered one to sign then I would urge you to please ask for one to be provided to you prior to commencing fishing. Ken Reid © FishDee Ltd.