River Dee Report week 13 from Ken Reid
Recent Catches

Another week of drought conditions on Deeside saw anglers resorting to high summer conditions by fishing in the early mornings and evenings with the clocks now having gone forward. Anglers were seeing numbers of kelts in middle and lower beats and some newer salmon. The thing about salmon as all anglers know is that just because they are there doesn't mean you will catch them, as they do not by and large feed in fresh water; there is no need for them to take the anglers flies in earnest. People speculate to this day as to why salmon take a fly and many theories abound. It's perhaps for the best that anglers don't know all the answers or they perhaps wouldn't bother going fishing. As it was, FishDee beats reported 58 salmon for the week and 4 sea trout, with salmon ranging from 2 lbs to 24 lbs. The 2lb salmon was caught on a dry fly, a size 14 Greenwell's Glory at Lower Blackhall by angler Andy Smith. Colin Simpson the beat Ghillie had initially thought it was a sea trout Kelt but on inspection he saw it was a small fresh salmon, which was landed at Sandy Haven. House of Hardy product development manager Howard Croston also had a nice 6lb fish from the Bridge Pool.
I phoned around a number of our Ghillies this morning to get their thoughts which are extremely helpful. I spoke to Archie Hay, Crathie Ghillie who was delighted to report the first two fish for the season for the beat. Archie had a 10lbs salmon from McLarens on Thursday and Mr Martin had a 9lb Salmon on Saturday. There were 2 salmon lost on Tuesday. Archie's fish was caught on a Crathie tube fly. There are fish in the pools of the beat and the beat is virtually fully booked now for the entire season. Brian Sim at Crathes Castle reported 4 salmon for the week between 5 and 8lbs which were caught on small Frances flies in hard fishing conditions. Mr Phil Taylor had 3 and Mr Nigel Wooley had 1, with the fish reported to being pretty fresh. A regular visitor from Norway, Mr Roald Meyer dropped me an e-mail advising 'Hi Ken. I attach some pictures from our recent fishing trip to Lower Crathes. The fish weighed 24 pounds and was 40 Inches long, and took a Red Frances (size 10) In the Bridge Pool. My first trip to the River Dee was with Global in 2006. I have since then been fishing Lower Crathes every year during week 13. We already look forward to next year. All the best from Norway, Roald.'
Lars Terkildsen sent an e-mail from Sweden advising, 'Just a short note about from Allan Bloch's week on Waterside & Ferrar and Birse with a group of customers. Allan, who hosted the week, is my associate in the shop for information. A strange March week at the Dee, this extreme low water level is something we have never seen during our years at the Dee, and wish we will never see again. Despite the low level, Birse produced a fantastic number of springers, a lot of thanks goes to Doug Murray for his fantastic spirit and great help - as always, Lummels was the top-top pool of the week with 7 springers, out of the 10 we got at Birse. Mr Rafael Kaminsky did not get as many as he usual does, but a cracking 20 pounder out of Lummels ( pict. attached )was caught on our proto type of the G.Loomis NRX 12 FT 6 Inches # 9-10. Waterside & Ferrar was hard to crack but in the end, with great help from Davie Goodfellow, we got one of these small springers (68 cm), Dee has had this year, and one early sea trout. To inspire others; we used the treble density shooting heads from Guideline in the density Floating / Intermediate / Sink2 with fluorocarbon leader, and best fly in our week was Black and Orange Monkey with a 5 cm wing. The conclusion; Fishing deep was the answer, and for once the Orange Monkey out fished the usual Yellow Monkey. Another fly that worked was the Silver Blue Monkey in same size.'
So the month of March has come and gone, and will perhaps be remembered by some as being memorable for a variety of reasons. In terms of rod catches, the FishDee catch returns were well below the 5 year average, although some beats like Ballogie estates did in fact beat their five year averages for the month. Anglers were up against it fishing during such unseasonable drought conditions and unbelievably high temperatures. Now it is a matter on record, Aboyne now holds the record of being the warmest place in Scotland in March at 23.6 degrees Celsius. We are now into April and the weather forecasters are reporting significant change and much more precipitation is forecast during the next few weeks. This will mean lots of new salmon coming into the river and running upriver to populate the River Dee pools. When the river does rise significantly we all are hoping for vastly improved catches. As always please let me know how you get on by dropping me an e-mail to ken@riverdee.org with any anecdotes and pictures about your experiences on the river. Ken Reid © FishDee Ltd.
Beat Catches Reported
SALMON & GRILSE: Park 5, Lower Crathes and W Durris 7, Crathes 4, Invery 4, Lower Blackhall 2, Cairnton 1, Woodend 1, Ballogie 4, Borrowston 2, Kincardine 5, Carlogie 4, Dess 2, Birse 10, Aboyne Water 1, Aboyne Castle 1, Craigendinnie 2, Headinch and Cambus O'May 1, Crathie 2, Total 58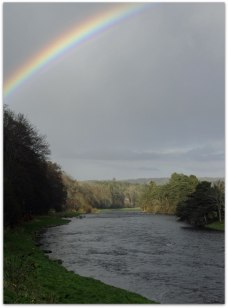 Prospects

The River Dee is currently sitting at very low levels, which are more akin to high summer than the month of April. That situation is about to change though, as the blocking area of high pressure which has been entrenched over the British Isles for weeks is moving away, and a series of weather fronts are due to sweep across the country bringing a real change to the weather. Last Monday saw the mercury siting at 72 degrees Fahrenheit, and this morning it was sitting at 32 degrees Fahrenheit and snow is falling on the hills. This is welcome news for anglers and Ghillies alike who must be exhausted after all the rain dancing that will have been going on around the valley for weeks. The Met Office is suggesting there will be snow for much of the afternoon and evening with wintry showers following along on Tuesday. There should be more rain showers during the week and perhaps the promise of heavier rain on Friday in time for the high tides. The long range forecast is for much more precipitation and normal spring temperatures. The fortunes of anglers should change for the better over the next few weeks.
As weather conditions are due to change then anglers should heed the advice offered by their Ghillies. Whilst you may start the week fishing with very small flies, you may be fishing with much bigger flies by the end of the week. The River Dee Ghillies are respected worldwide for their expertise and knowledge and it is worth while asking for their views when you get time with them on a one to one basis. If you don't have a Ghillie to call on for advice then perhaps you will start the week with small flies, perhaps size 10-12 dressed doubles. Patterns to try as always are the Park Shrimp, Crathie Fly, Frances Fly, and Calvin's Shrimp, Monkey, Tosh and Ally's shrimp.
If you find you have the wrong flies with you for your fishing trip then pay a visit to some of our super retailers; George Strachan's store in Aboyne or the Kincardine O'Neil Post office have a great selection of Dee flies tied by the enterprising Ballogie estates Ghillie Sean Stanton, at very attractive prices. These venues also provide great sandwiches for visiting angler's luncheon etc and of course the highly popular Dalmore Dee Dram. The Orvis store in Banchory also has a great selection of flies to choose from and equipment to hire. Please ensure visiting anglers sign the Gyrodactylus salaris declaration forms. These are vitally important to the river, ensuring all visitors are vigilant in ensuring we take necessary precautions and don't see this devastating parasite wiping out our stocks of salmon. If you are not offered one to sign then I would urge you to please ask for one to be provided to you prior to commencing fishing.
As always please let me know how you get on by dropping me an e-mail to ken@riverdee.org with any anecdotes and pictures about your experiences on the river. Ken Reid © FishDee Ltd.