A very happy little guy, Dad has booked salmon fishing this summer as I can go on again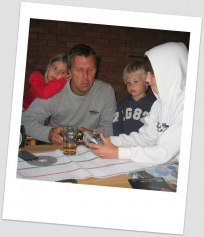 Vi kommer att tillbringa 1 vecka på Hembre Gard som jag inte har besökt på många år nu.
Men det blir som att komma hem till mammas gata med tanke på hur många många många säsonger jag har gjort där innan, och inte nog med det för det kommer att bli en extra krydda denna gång.
Cirkeln kommer att slutas :-), jag är uppvuxen med laxfiske och flug kastning sedan barns då min pappa höll på med Casting på internationell nivå.
I detta tidiga skede av mitt fiske liv träffade jag pappas kompis Kent Ström som pappa fiskade mycket med och dom hade SOT Hölen i Gaula (Rogstadmoen/Guideline sträckan)i många många år.
Under en längre period lade pappa ner lax fisket, han var med lite sporadiskt i Norge. Men efter att varit med i Skottland för ett tag sedan så har det nu tagit fart ordentlig igen, det är skit skoj att ha med han igen.
Så nu tillbaka till den slutna cirkeln, Hembre som jag har minnen av sedan barns ben när pappa fiskade där med Kent, så skall dom efter alla dessa år sammanstråla och fiske ihop denna vecka på Hembre det kommer bli helt maxat.
Och Kents son Thomas ska med och hans barn liksom mina barn, Thomas barn och min äldsta son har träffats innan på Hembre så dom känner varandra sedan innan, medans min yngsta son inte har träffat Thomas han har bara hört talats om en incident som hände med Plåt Nicklas där för många år sedan, som slutade med att polisen kom och hämtade mig och Thomas....
Det hände en grej i Bolstad i sommras som ni inom kort kan läsa om, då sade båda mina söner.... Pappa vilken tur den gubben hade att inte din kompis Thomas var med !!! (kan bara intyga att det hade inte varit bra för den gubben, aj aj aj)
Some old pictures from the good old days, has so much wonderful memories of Hembre Gard with my friends and not least in Kent, Thomas, Thesslund, Stenis, Fat Karlsson, Inger Hembre mm.
I could fill an entire book without further only with the family Ström and all the nonsense that we have found at.
The catch after an early morning fishing on Hembre Gard
Kent Ström with a fantastic catch the morning after you see above
After our week here this summer will be a smoking hot report from Hembre Gard, we intend to take a full week of the next year. An offer to participate in 2013, comes in the fall