River Dee Monaltrie and Lower Invercauld
Here I will spend 1 week now in April with movie recording and enjoyable company, great accommodation with 3 course meal.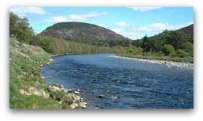 Monaltrie and Lower Invercauld
Location
River Dee at Ballater
Summary
Five year average: 225 salmon/grilse
and 71 sea trout
Monaltrie: 3 miles left bank fishing, 24 named pools
Maximum rods 3
3 huts
Lower Invercauld: 7 miles left bank fishing, approximately 40 named pools
Maximum rods: 3
1 main hut and 3 smaller huts
Description
The Monaltrie fishings on the River Dee consist of some three miles of prime fishing on the left bank of the river at Ballater. There are twenty-four named pools offering a great variety of fishing whatever the conditions - high or low water. The fishings are divided into three one-rod beats rotating daily at 5pm. Recent catches have been good and have shown substantial growth over the last few years. You will be greeted on arrival on the beat by a Ghillie on commencement of the lease who will be on hand to show you the beat. Tuition and hire of equipment by arrangement with Mr Murray. There is a good hut for lunch as well as smaller huts on the beat.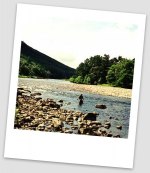 Lower Invercauld is on a particularly scenic area of the upper River Dee. The fishings stretch for about seven miles from Balmoral Bridge at Crathie to the junction with the River Gairn downstream, all on the left bank. There are some forty named pools and because of their variety and the length of the beats there are usually always pools fishable whatever the conditions and river height. The fishings are divided into three one-rod beats rotating each day at 5pm.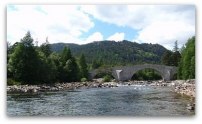 Catches have substantially improved over the last few years with a strong regular client base doing well as their knowledge of the beat increasing annually. Lower Invercauld was always a prime beat on the Dee and is fished mostly by the same anglers year on year. This is a very picturesque beat which offers excellent opportunities for observing wildlife and fauna which includes Ospreys and Red Squirrels. Some day tickets may be available (See how to book) . Most main pools are easily accessible by car, but in some areas a 4x4 might be advantageous.