Bring your family or friends to London one weekend and take the opportunity and support your favorite river.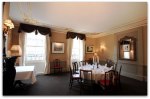 If you feel that you have not had time to bid on all the amazing things on the River Dee Trust auction.
Why not bring your wife to London for a weekend and take the opportunity to bid at the same time, this ought to be double happiness.
Or conversely, it may be that it is the man in the relationship who likes to shop and it is the woman who fishes.
Anyway, do not miss the River Dee Trust auction
our final event in London on the evening of Thursday 1st March 2012 where all lots will "go under the hammer".
Our London event is being held at the Savile Club, 69 Brook St, Mayfair, W1K 4ER from 6.30 to 8 pm. Attendance is free and there will be a supply of whisky and canapés as well as a guest speaker.
All we request is that you let us know if you will be attending prior to the event (please inform the River Office, 013398 80411, info@riverdee.org by Friday 24th February). However, if you cannot make the event you can still bid on a lot by placing a telephone bid on the evening or by sending us a sealed bid (see brochure for further information).
Savile Club
69 Brook Street
Mayfair
London
W1K 4ER