The River Dee Trust Auction 2011
Small stream which flows into the River Dee on the Lower Dess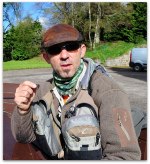 We are delighted that the online auction was a success - it raised £6,550 for the River Dee Trust.
A HUGE THANK YOU to the very generous donors of the auction lots as no funds could have been raised without them.
Thank you also to the all those who took part in the auction and to those winning bidders who have dug deep into their pockets to support the work we do on the River.
The proceeds from this auction will go to further our work in delivering our education programme, supporting our up-and-coming tree planting project in the Upper Dee and help fund further easements of (man made) barriers to fish migration.
Please look around this website, view our most recent annual report or our most recent survey bulletins to find out more about our work.
Mill Pool on Lower Dess By Night