Ken Reid
2011-12-15 11:13:22
Hi Thomas
Thanks for producing this article on your blog. I know many of our Scandinavian cousins who visit our beloved River Dee enjoy a Dee Dram on the side of the river.
Is there any better place to drink a dram ??
You have done an outstanding job in creating these images which encapsulate quite beautifully the quality and beauty of fine fishing related items with the high desirablility factor. You have a great blog-keep up the good work. sláinte mhaith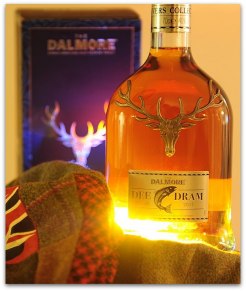 The Dalmore Dee Dram

The funds generated by the sale of the Dalmore Dee Dram will be used to directly fund the easing of five obstructions to fish migration across the Dee catchment. The obstructions are either historic weirs that impede fish passage resulting in fewer fish making it through to potential spawning grounds, or are badly designed culverts and bridge aprons that completely block fish movements. By using the support from the Dalmore Dee Dram we aim to seek match funding from the Scottish Environment Protection Agency (SEPA) River Restoration Fund to ensure that the money works harder to the benefit of the fish and the river. Overall approximately 25 miles of river and tributaries should be opened up.

The second area that we are working on with the support of Dalmore is tackling diffuse pollution with local farmers. Diffuse pollution in this context is the run-off of silt, sand and soil from nearby fields into tributaries causing spawning grounds to become silted up and juvenile nursery areas to become smothered. Over the last ten years over 80 miles of buffer strips have been installed across the Dee catchment helping to reduce this diffuse pollution, allowing the streams to recover and the fish populations to flourish once again. The Dalmore Dee Dram will be acting as a catalyst by helping the local farming community gain access to the technical support to allow them to apply for Scottish Government grants to install the buffer strips and maintain them in years to come. The Dalmore Dee Dram is vital for this process as it allows us to build up a good practical relationship with the local farmers and helps deliver real benefits to the fish over the coming years. Your purchase of the Dalmore Dee Dram will see a donation of £4 from every bottle sold go directly to fund these important works and will be topped up with match funding to make your contribution worth at least £8-your support is vital. We hope you enjoy your purchase of the Dee Dram whether enjoying with friend or as a fabulous gift item for a friend or relative. sláinte mhaith
Stocks available from the following outlets:
From Mar Lodge to Dess
George Strachan Stores
Golf Road, Ballater Tel: 013397 55452 Opening Hours: 9am-5pm Monday to Saturday and
Station Square, Aboyne Tel: 013398 86121 Opening Hours: 9am - 5pm Monday to Saturday
E-mail george@georgestrachanltd.com
From Dess to Woodend
Kincardine O'Neil Store
Tel: 01339 884201
Open 7am-6pm Monday to Saturday
E-mail susan@kincardineoneilvillagestore.co.uk
From Cairnton to Kingcausie
Deeside Drinks Emporium
22 Dee Street, Banchory Tel: 01330 822 650
E-mail deesidedrinks@live.co.uk
Two of my best belongings, Dee Dram and Vom Hofe
After much work behind the scenes the River Dee Trust are delighted to announce the Dee Dram will launch officially on Monday 1st February at the River Dee Opening ceremony for the 2010 salmon fishing season. The ceremonial cast will be performed by a well known Scottish celebrity and invitation to the ceremony itself is by invitation only. There will be a facility provided at the event for orders to be taken for the Dee Dram.
What is it ?
The Dalmore Dee Dram is a 12 year old expression of the world famous Dalmore single malt whisky and is a limited edition of 600 cases. The Dee Dram has been aged in 50% Oloroso sherry wood and 50% American white oak casks.
Why is it being produced ?
The River Dee is a world renowned river and designated special area for conservation for the iconic salmon, secretive otter and mysterious freshwater mussel. Over the years the combined impacts of changing land management practices, industry and development have taken their toll on the Dee and the wildlife associated with it. This concept was born out of a willingness from people to use an innovative collaborative approach to help restore this globally iconic river back to its former glories.
How much money goes to helping the river ?
There will be a generous donation made from every bottle sold to the River Dee Trust which will help substantially with restoration and conservation work.
What's the plan for spending the money ?
The River Dee Trust will use the money to improve the habitat along the tributaries, ease man-made obstructions to fish migration allowing fish access to hundreds of miles of spawning and nursery areas, as well as planting native trees on the riverbanks in the upper sections of the Dee to protect the rare and threatened spring salmon. The work will not only improve the conditions for fish but also the broad spectrum of wildlife along the River.
I don't fish the Dee- So what ?
Our hope is that the Dalmore Dee dram can become a practical example of what can be achieved. We sincerely believe that we can improve the River Dee, but only if all parties pull together. The Dalmore Dee Dram has provided a great focus and a way for lots of people to contribute. We would urge people to think about the message that this project can send and the wider implications for conservation projects in other areas.
How long will it be before we see some results ?
It is extremely good, should probably taste a little bit more before Thomas and Mark comes here
Fish passes are very expensive but the results are quick. We hope to have funds in place to begin work in 2010. Landscape change and habitat restoration are a longer process but work is ongoing and more can be done as soon as funds are in place. So basically as soon as we can sell the whisky, the sooner we can get cracking!
I think this is a great idea- what can I do to help as I'd like to get involved.
Obviously buying a bottle is great, but there are other things that you can do. You can become an advocate of the project:
Convince your local pub and bar to stock a bottle!
Influence your company to use the Dalmore Dee dram as a corporate gift
Tell all of your friends about the project
If you are visiting Deeside then please make sure your hotel or B&B has a bottle
Further information about the Dee Dram can be found at www.deedram.com where it is available to purchase or can be bought from George Strachan Ltd, Station Square , Aboyne Tel: 013398 86121 Opening Hours: 9am - 5pm. George Strachan Ltd are the wholesale distributors for the Dee Dram and welcome trade and retail enquires.
A tough job but someone has to do it
The Dee Dram celebrates the historic connection between malt whisky and the famous fishing rivers of Scotland, whose pure water goes into the making of this unique product. The river Dee runs through the Queen's estate at Balmoral and is one of the world's greatest and most beautiful salmon rivers. In recognition of this we have created a unique expression of the Dalmore.
A generous donation from each bottle sold will be gifted to the Dee Trust in recognition of their tireless efforts to protect and enhance this most beautiful of environments.
Cask type, oak species and previous fill all play a vital role in determining a whisky's flavour profile, colour, and character. Dalmore use hand-selected first fill bourbon barrels from Kentucky and aged sherry casks from sherry house Gonzalez Byass to ensure The Dalmore delivers a whisky that's rich in aroma and flavour.