FishDee beats 2011 fishing season
Salmon Rod Catches for FishDee beats for the 2011 season are as follows. February 353 salmon, March 409 salmon, April 883 salmon, May 1040 salmon, June 776 salmon, July 728 salmon, August 1128 salmon, September 1288 salmon and October 763 salmon. There is no facility from FishPal to separate Grilse catches from Salmon catches. This gives a total of 7373 salmon and grilse catch from FishDee beats. This is a 31% increase on the 5 year average. By periods the Spring catch was 2685 against a 5 year average of 1866, summer catch 2631 against a 5 year average of 2002 and autumn catch of 2056 against a 5 year average of 1756. Sea trout catches were substantially down on last year's excellent 2555 from FishDee beats with only 1363 reported for 2011 from FishDee beats which is also down on the 5 year average of 1626.
A fine summer salmon from Lower Crathes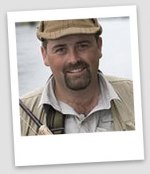 There was a long hard winter that was reported as being the worst for 20 years which meant fishing conditions were difficult at times in the early spring. A notable feature this year, which mirrored last year in some respects, was the regular spates that occurred during the fishing season that kept salmon on the move, and provided good angling conditions through the summer and into the autumn period. There was a good number of big salmon reported this year with many fish over 20 lbs and a number over 30lbs landed. There was also a noticeable shortage of grilse this year. A trend which has been reported by many countries that have Atlantic salmon runs including Iceland. This may be a blessing in disguise if we get a much bigger run of springers and msw summer salmon next season, and there are some signs indicating this may happen. There are records going back 300 years which show a 50 year cyclical pattern of salmon abundance and then grilse abundance-we are at the end of the 50 year grilse cycle if the pattern continues.
Jesper Holm Neilsen receiving the Park Trophy from Ken Reid for the largest rod caught salmon in 2010 that was confirmed by Ghillie Eoin Smith
Bookings made through FishDee were 32% up on 2010 with over 2 million visits to the FishDee website during the fishing season. There was a good amount of availability provided by fishing beats and we were pleased to see Heughhead and Mar Estate joining the FishDee website during 2011. There is less than a handful of River Dee beats not using FishDee so it is pleasing that visitors to the website can find out virtually all the information there is available about fishing opportunities on the River Dee and who to contact for access. If anyone wishes to promote their fishing or local business for 2012 they can contact ken@riverdee.org who will be happy to assist them in any way he can. The FishDee website is a really cost effective way of reaching a huge global audience of prospective customers.
A truly magnificent Spring Salmon caught in a beautiful setting on Deeside by Per Heikkala
It is very pleasing to report that catch and release saw the release of 98% of salmon caught in 2010, and as all results for 2011 have not been reported early indications show that this continued during 2011, as spring catches mirrored these percentages. There is a good reference page on how to carry out this practise on FishDee and the DDSFB have announced that catch and release will be included in the 2012 conservation code in place for the 2012 fishing season. This followed a consultation process with the river proprietors and a steering committee which reported to the DDSFB.
A fine February spring salmon
FishDee has provided weekly reports to a wide variety of media during 2011 and saw fishing reports being forwarded to advertisers on the FishDee website who wish to be able to inform their customers with weekly fishing information. This ensures that anglers and the public in general can get a view about how the river is performing on a weekly basis. The River Dee is the lifeblood of the rural Deeside community and during the shoulder periods of spring and autumn angling tourism is a vital source of revenue to many businesses on Deeside. FishDee now has Twitter and Facebook sites which are updated virtually daily with news. The Facebook site has many hundreds of images on photo albums that subscribers to Facebook can access. These images are supplied by many people during the course of the year and are uploaded to the website to provide a nice pictorial perspective of the River Dee fishing scene.
River Dee Board and Trust Chairman Ian G Scott with a freshly run 20lb summer salmon
To help improve the runs of migratory fish much needed river restoration and habitat improvement work is planned by River Office staff. There are ambitious and challenging work programmes in place for the next few years and your support is needed. We want to let you know that the River Dee Trust is holding a series of fundraising activities during the close season starting with an online auction to raise funds to support and further our river restoration work initiatives. Following successful delivery of the E.U funded 5 year Cass Life Project where we were awarded the accolade Best of the Best by EU Delegates, we have been encouraged to start a £2.2 million programme of works and need to source seed corn funds to access full grant support. The auction, with around 40 lots can be found at River Dee Trust Auction the auction will start at 9 am on Tue 1st November and finish 5 pm Wed 30th November. Following on from the online auction we shall be offering a range of outstanding lots for people to submit sealed bids during December, January and February culminating with a special evening's event in London. There will be a glossy brochure produced for these prestigious items with full details and specifications of the lots on offer from very kind global benefactors supporting our vital work.
Lower Dess Ghillie Eion Smith
To finish what has been a very good season for anglers fishing the River Dee, I would like to thank many people. Firstly, the directors of FishDee and River Director Mark Bilsby, for their help in developing the site and providing encouragement and support. I would like to thank Edward Humphrey, Ian Scott, Shane Christie and Robert Harper and many other Ghillies and proprietors who have helped cast a helpful eye on these reports prior to publication, and provided a view, to help ensure we have a good balance to the weekly reports. Finally I would like to thank all readers who have been ever so kind by writing to me and sharing their news, anecdotes and opinions about their experiences fishing on Deeside. I really cannot thank you enough for your support and for the enjoyment I get on receiving your correspondence. The reports would be a pale shadow of what they would be without this most generous support and help. I wish all readers a happy Christmas when it comes and a prosperous new year. The 2012 salmon fishing season will soon be upon us and I sincerely hope the salmon come in ever increasing runs. However a word of caution-make sure you keep an eye on the find fishing page to book fishing next year as demand is sure to be sky high given the extremely good value that salmon fishing on the River Dee represents to many keen local, national and international anglers. Copyright FishDee Ltd November 2011.
Regards
Ken
Ken Reid
Fisheries Development Officer
DDSFB & River Dee Trust Office
Mill of Dinnet, Aboyne
Aberdeenshire, Scotland,AB34 5LA
D +44 (0) 13398 80411
M +44 (0) 7979 878971
E-Mail ken@riverdee.org
www.riverdee.org
www.fishdee.co.uk
River Dee Trust Registered Charity No SC028497
Thomas Thore with a fantastic river dee springer