River Dee Report week 23 from Ken Reid
Many thanks to you Ken for all these amazing and entertaining reports you send to me from the River Dee
Recent Catches


As a tribute to the River Dee Ghillies I thought it would be nice to compile a weekly River Dee Ghillies report with their observations over the last week. I am grateful for the feedback provided by such stalwarts of the Dee such as Eoin Smith, Keith Cromar, Archie Hay, Jim Cowper, Sean Stanton and Ian Murray. As always I will mention beat returns in a brief summary. FishDee beats have reported 130 salmon to 25 lbs and 114 sea trout to 7lbs for the week, with Park reporting 20, Carlogie and Waterside beats reporting 11 each and Crathie also into double figures. Ballogie reported 13 sea trout, Waterside 11 and Lower Invercauld & Monaltrie 9 for the week. I had hoped more sea trout would be caught for the week but some very cold nights put paid to chances of good nightly sport on most beats. Anglers by and large had to persevere for their rewards and have a bit of luck.

Hugely experienced Dess beats Ghillie Eoin Smith
Eoin Smith reported from the Dess beats the following 'Tim Holloway a visitor from Devon had a 25 lb fish from Forbes pool, he also had a 21lb fish during his visit. Anglers had to put in a bit of work and get a bit of luck to get fish to have a go. It was nice to report two bright new fish on Saturday. It's been the best run on the river in 25 years.' Keith Cromar from Park commented 'Anglers picked away all week and had to work hard at times. I am pleased to see new Grilse coming forward in excellent condition. A regular angler managed a brief afternoon on the beat and christened his Hardy Sintrix single handed rod with a fine 9lb salmon at Greenbanks. Prospects are looking good with the river being freshened up following yesterdays rise in river levels.' Archie Hay reporting from Crathie commented' Mike Laing had 6 salmon for his week with Charlotte Stone landing 3 salmon. We had to persevere at times and fish became active following a lift in river levels later in the week.'
Park Estates Head Ghillie Keith Cromar with an angler some may recognise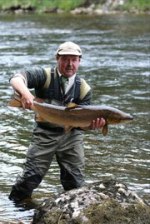 Jim Cowper from Aboyne Water advised 'We are hoping to get more sea trout however we lost 3 nights sport due to conditions. Mr Trafford fished during the nights and got both salmon and sea trout during his stay. Successful flies were the Crathie and Blue Charm.' Sean Stanton reporting for Ballogie and Carlogie comments' we lost more fish than we landed which ensured a frustrating time for anglers. Mike Wrightson hooked 9 and landed one and another angler hooked 5 and lost them all. Murray Stewart lost a big fish on the hitch which he reckoned was over 20 lbs. There has been a good run of fish this year and at times the fish have been difficult to catch. Cold nights made sea trout fishing tough. Following the lift in river levels prospects look very promising for this coming week with Grilse now starting to arrive in excellent condition. The Royal Stoat fly pattern I have been experimenting with is doing exceedingly well and I am very optimistic that this fly will become extremely popular and successful.' And finally Ian Murray from Lower Invercauld and Monaltrie advised 'The weather was cold at times however some very good fish were landed including fish of 17 and 15lbs from the ministers by Dr Abrines party. Paul Brett landed a fine 7lb sea trout which is big by River Dee standards. There were no hard and fast rules with small flies doing well at times and at other times bigger flies were seeing some sport however fish were by and large unsettled. The Silver Stoats tail was as consistent as ever on our beats.' The Abrines party were also successful at Waterside and Dinnet beats.


I would also like to advise readers that one of the stalwarts of the River Dee Davie Gibbon, Middle Blackhall Ghillie has recently been awarded his UKCC level 2 casting qualification and is one of only a handful of casting instructors in Scotland with this award. This is a great achievement for Davie and at 71 years young his enthusiasm and expertise are as keen as ever. I wish him and the beat all the best for the season and if anyone is looking for a great instructor to teach novices to fish I can highly recommend David. Please write to me, Ken Reid, with any news or reports of success to ken@riverdee.org and tight lines to all. Copyright FishDee Ltd June 2011.
Prospects


The start of Wimbledon fortnight sees a week of cool and damp weather forecast for the coming week on Deeside. Whilst sun lovers hope for midsummer's day and long hours of sunshine. I can safely say that weather forecasters expect temperatures here to be around 14 degrees Celsius with night time temperatures around 11 degrees Celsius. This is good fishing weather allied to the river which is neither too warm nor too low. Winds should be light and from northerly directions. Anglers should ensure they have warm and waterproof fishing jackets to hand as there will be occasional heavy rain and frequent showers. River temperatures have dropped back to around 12 degrees which should encourage more activity from fish. The maritime influence indicates high tides dropping back from 4.1 metres to 3.4 metres. There should be enough water for new fish to come forward and we expect sea trout and grilse to come in rising numbers with hopefully the start of the summer run of 2 sea winter salmon. Last year saw an excellent grilse run so hopefully fish that stayed for another years sea feeding will start to come in good numbers.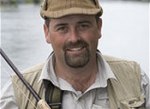 As we approach mid summers day the hours of darkness are at their shortest and this is quite often a very productive time to fish if conditions are decent and fish are active. It doesn't pay to stop fishing if fish are active at nights, however it can be very tiring fishing both during the day and during the night. Some anglers enjoy having an afternoon's siesta prior to fishing through the night. I would urge anglers to make sure that fishing is permitted through the night hours with their beat Ghillie. As you will see from the fishing reports a number of Ghillies are pretty optimistic about this week's prospects and anglers should heed their advice at all times. Providing we don't have a big rise in river levels then fishing should be pretty reliable this week. Ghillies are recommending blue charms and silver stoats with micro tubes and sunrays fished on the hitch, and do try the new fly of Sean Stanton's fly vice, the Royal Stoat. As always the Park or Ally's shrimps on a size 15 salar double hook may also do the trick. Anglers may fish with advantage using shorter rods and light floating lines with short sink tips.
If you notice any suspicious activity on your beat please report this to your Ghillie or contact the river office on 013398 80411 where River Dee Bailiffs can be contacted 24 hours a day. There are plenty of rods available for anglers on FishDee at the moment, and with the volume of fish in the river it is well worth the effort of travelling to fish our wonderful river. Please write to me, Ken Reid, with any news or reports of success to ken@riverdee.org and tight lines to all. Copyright FishDee Ltd June 2011.Copyright FishDee Ltd June 2011.
Regards
Ken
Ken Reid
Fisheries Development Officer
DDSFB & River Dee Trust Office
Mill of Dinnet, Aboyne
Aberdeenshire, Scotland,AB34 5LA
D +44 (0) 13398 80411
M +44 (0) 7979 878971
E-Mail ken@riverdee.org
River Dee Trust Registered Charity No SC028497
Follow FishDee on Facebook and Twitter