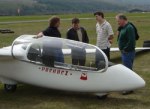 Deeside Gliding Club provides flying training and trial lessons from Aboyne Airfield. Trial lessons and 2 flight courses are aimed at novices who may never have tried gliding. Additionally the club offers evening courses in the summer months aimed at novices and also slightly more experienced pilots. The summer courses run every Tuesday evening, each lasting one month, these are currently fully booked for 2009.
If you take either a single flight or course we're sure that you'll enjoy your gliding training in the Highlands of Scotland, above the beautiful countryside of the Grampian Mountains. Weather permitting you will be able to sample soaring flight to prolong your flight time.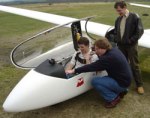 General Information
There are no age limits but anyone wishing to fly in a glider needs to be at least 4' 10" in height in order that they can be adequately secured in the aircraft, anyone over 6' 4" may have difficulty fitting in our gliders. The maximum weight of any occupant of the glider is 220 lbs.
Anyone under the age of 18 requires parental consent and those under 16 must also be accompanied by a parent or guardian.
Please read the following mandatory notes
For more information please contact the club by e-mail (office@deesideglidingclub.co.uk), telephone or fax (013398 85339).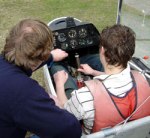 Trial lessons
Trial lessons are now operating daily during the week until the end of October and continuously at the weekends and are available at a cost of £70.
You will fly with a qualified instructor, climbing to 2000 feet. Once released from tow the instructor will offer a demonstration of the flying controls and give you the chance to fly the glider. These flights normally last for 15-30 minutes giving the potential for some soaring flight.
However long they last these flights are always memorable, but just to make sure you will receive a commemorative certificate after landing. You can take a camera with you provided it is not too large.