Dee's salmon season Start 2011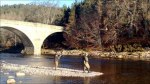 The official opening ceremony on the riverbank at Potarch Bridge has seen the river being formally opened.

Mark Bilsby, from the Dee district salmon fishery board and River Dee Trust, said: "The Dee enters 2011 in excellent spirits. Overall rod catches of salmon and grilse in 2010 were the highest for 30 years and this excludes catches during the three year trial extension to the fishing season in October.
"Catches were once again boosted by good water levels, giving some ideal angling conditions coinciding with first class runs of fish".

Mr Bilsby continued: " The encouraging trend of better catches, which we have seen over the last few years, is welcome news for those that make their livelihood from the river and is testimony to their hard work and commitment, along with the support of anglers who continue to return fish to the water so that they carry on their journey and spawn."

Fisheries managers of the Dee, Spey, Tay and Tweed rivers have now launched their own whiskies to help pay for salmon conservation measures. A trial batch of Dee Dram in Aberdeenshire raised £35,000 last year.