Frodins report from kharlovka our last week in Russia
Three rivers program kharlovka, litza and rynda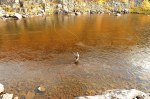 And finally a few thoughts from Mikael Frodin on the last days of the 2010 season;
I stumbled onto the helicopter exhausted yet excited for one more chance on the mighty Kharlovka. I look back over my shoulder, the late autumn has the camp in a firm grip, the colors are fantastic, sparkling like a newly tied Thunder & Lightning or Willie Gun. I can smell the winter in the air, the first snow is close and the fish are moving down into the shallow spawning grounds. For me it was fantastic to have been here for the opening week and now almost 4 months later back again to close these majestic rivers down for another season.
We arrived in camp with high hopes after a fantastic previous week with fish over 40 lbs and a new shining osenka record of 36 powerful pounds! We brought back the warm weather to camp with 15 Celsius and a mighty low pressure it sure was a strange change. Our group was a mix of veterans and newcomers; Swedes, Norwegians, Germans and a couple of hard core Russians. Our first afternoon and opening day gave the group several 20+ pounders and also a few lost osenkas. The spirit in camp was high and the fishing seemed to be great as ever.
Photo Mikael Frödin
The fish and surroundings blended us with a palette of colors that I have never seen before. Salmon anglers all over the world love broad shiny sides, sea lice and fresh run Salmo Salar. But the power and beauty of a September male is just astonishing. They dress up for their biggest fight in life, to the dance on the spawning beds, a dance for life and death. Nature has dressed them up to be as powerful and beautiful as possible – they have a charisma of nature at its best!
Photo Mikael Frödin
As the week went by it was obvious that we were affected by the big pressure change, and also possible the sudden rise of the water temperature. The fishing was tough and to crack the code on how to fish the pools were not easy. Every day the group came back with fish caught on everything from the smallest little fly to the longest nastiest versions of the classic Sunray Shadow. Fish were caught on dries and skated flies and also on sinkers deep down under the fastest water. The fishing was challenging but also rewarding as always on the Kharlovka and Litza. Big fish, fantastic runs, broken leaders, tears, laugh and tragedy – all the ingredients of a fantastic fishing week were there – even if we had to fight hard for them. There were many highlights; one of them was 21 year old Martin come back from Litza with a big smile and great photos of his new personal best. The mighty male weighed in at 37lbs and was probably the most beautiful fall salmon I have ever seen.
| | |
| --- | --- |
| Photo Yngve Landro | |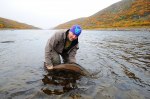 Among the highlights was also Brian "king of bombers" with a series of nice fish, tempted to the surface fooled by a skated little deer hair fly. Extreme sportsmen and Norwegian veteran Yngve hooked his 20 lbs Osenka on a short line in Barell pool– the fish showed how powerful they can be and left Yngve alone, defeated, shocked staring on his slack line… Thomas caught his 25 pounder on the same place – twice! The take was hard and solid and the turn so fast that he thought he lost it, letting me on the other side know that - this was a good one! Thinking he was snagged after losing his fish he pulled his rod and surprisingly found out that the fish was still there – oh boy, some of these fish sure can fight! Jeremy, peters old friend showed that experience are essential , coming back every day with a fish or two – Willie Gun was his weeks favorite. Johannes our German ASR virgin just fell in love with the place – I wouldn't be surprised if we will eagerly cast our sinking lines together in June. Our Russian friends that have visited the ASR several times before came back one of the last days from Litza with several big fish from Tent and Lower Tent and a couple of Osenkas from the tail of the Snowbank pool. Another highlight must be when Håkan Norling opened his fly box for our glorious leader Peter. He was like a starving kid in a candy store leaving with a handful of flies that surely will give him many wonderful fish in the future. Personally it's hard to say what my highlight was, the fantastic 25 pound osenka that jumped away from me on the Mickey Mouse pool in Litza or the huge colorful male that took me down from Golden pool through almost all of the Washing Machine before it finally defeated me!
Photo Kolja
Despite the luxury camp and superb helicopter service the last day Mother Nature showed us who's really in charge up here. Thick fog settled in over the valleys and our little group of seven fishermen, guides and Russian helpers were stranded on the Litza. As this was the final day of the season and the tent camp had just been taken down, we resorted to a cozy slumber party in the two small houses - the atmosphere was high and the laughs were many- in true ASR spirit! The tundra had us in its grip. The next day we left with a humble feeling and gratitude to be able to visit this true wilderness where nature is always bigger than man.
We have a long winter in front of us. A winter of fly tying, planning, looking at pictures and dreaming of June when it's hopefully once again possible to meet the tundra and the rivers we love so much. For me it will be my 20th anniversary week and who knows what exquisite salmon adventures these great rivers will enrich me with next?
Until the ice breaks!
Mikael Frödin
Photo Thomas Thore
During the final two colorful weeks of this spectacular autumn season the guests managed to combine for a splendid 167 salmon – 31 of these fish were greater than 20 pounds – six of them were larger than 30 pounds (including that bright fresh 36 pound osenka) and let's not forget about Richard's grand 41 pounder!