Leif Stavmo fishing Stryn at Lysevold
Telefonen ringer precis när jag sätter mig i bilen för att ta en sväng uppe i Between The Streams, det är Leif som ringer med andan i halsen och vill ha hjälp han har fisk på uppe i Riber.
Kör över ängen upp till Riber och när jag kommer ur bilen med kameran i högsta hugg så ser jag att det är rejäl press på LeCie spöt. Leif har problem att hålla kvar fisken i poolen.
Click on images to enlarge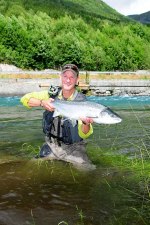 Nu när båda två befinner sig nere i home Pool så forsätter drillningen yttligare en stund, och efter det att den till synes var trött och kommer med så fint in mot land så gör den flera rusningar ut i älven igen.
Men till sist så är det Stävmo som får övertaget, efter en intensiv foto stund så släpps den för att kunna fortsätta sin färd upp över älven.
Utrustning vid detta tillfället var Guide Line LeCie 13,7 fot 9/10 kombinerat med en Quadra 810 laddad med en Triple-D Power Taper F/H/I